The Wint Filipek Sr.

Memorial Tennis Tournament
​
JUNE 18-26, 2022
CHAMPIONSHIP
SUNDAY MATCHES
Men A Singles 9:00:00 AM Jonathan Lippert vs. Brook Hazelton
Men B Singles (-50) 9:00:00 AM Eric Henne vs. Richard Samarawickrama
Men B Singles (50+) 11:00:00 AM Craig Calistro vs. Errol Williams
Men C Singles 9:00:00 AM Andrew Hopkinson vs. Gautham Santhanam

Women A Singles 9:00:00 AM Maria Negron vs. Justine Hoover
Women B Singles (-50) 9:00:00 AM Megan Fitzgerald vs. Liese Sippel
Women B Singles (+50) 9:00:00 AM Opal Bravo vs. Lori Brown
Women C Singles 9:00:00 AM Anja Josef vs. Karen Ligammari

Men A Doubles 10:30:00 AM Jonathan Lippert/Brook Hazelton vs. John Holschlag/Jason Sucoll
Men B Doubles (-100) 9:00:00 AM SEMIS: Alex & Lucas de Lencastre vs. Matt Downes/Dennis Scarpa
Men B Doubles (-100) 8:00:00 AM SEMIS: Adam Embler/Paul Holoczyk vs.Eric Wade/Craig Puffenburger
Men B Doubles (-100) 10:30:00 AM FINALS: Winners of two matches above
Men B Doubles (+100) 10:30:00 AM Chip Marchand/Paul Malafronte vs. Kenyon Clark/Ray Bucknam
Men C Doubles TBD Andrew Hopkinson/Kayo Nierbryoski vs. Zachary & Benjamin Parente

Women A Doubles 10:30:00 AM Caitlin Sze/Lejla Guster vs. Lavanya & Varsha Rathore
Women B Doubles (-100) TBD Liese Sippel/Janet Baron vs. Jennifer Persio/Tina Rivera
Women B Doubles (+100) 10:30:00 AM Sandi Mauro/Susan Anderson vs. Connie Hurtt/Laurie Zrenda
Women C Doubles 10:30:00 AM Anja Josef/Asya Tarabar vs. Haley & Abigail Lespier

Mixed A Doubles 12:00? Brian Bucknam/Maria Negron vs. Rostyk Datsko/Varsha Rathore
Mixed B Doubles (-100) 6:00PM Angelo & Madison Rossetti vs. Janet Baron/Rick Samarawickrama
Mixed B Doubles (+100) 6:00PM Don Hoover/Lynn Siebert vs. Philip & Angela Goetz
Mixed C Doubles 12:00:00 PM Jack & Bobbie Dise vs. Roxanne Kilpatrick/Don Ouellette

Wint Sr. Divisions 12:00:00 PM Jim Quinn/Bruce Fiermonte vs. Mike Flannery/Wint Filipek
​
​
​
​
​
​
​
​
​
​
​
​
​
​
​
​
​
​
Touching WTNH interview of Wint Filipek on June 18 2022
​
​
​
​
​
​
​
​
​
unmute to listen
​
​
​
​
​
​
​
​
​
​
​
​
​
​
​
​
This is not your ordinary
tennis tournament!
The Wint Filipek Sr. Memorial Tennis Tournament
Ridge Top Club
556 Skiff St.
North Haven, CT 06473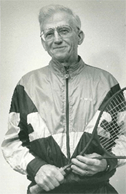 Communications Board
​
​
​
​
THIS IS NOT YOUR ORDINARY TENNIS TOURNAMENT!!!
​
​
​
9 Courts Available For Our Use
To be a tournament sponsor or serve on our committee contact:
Wint Filipek @: wrfilipek@hotmail.com
"The Tennis Tournament run for tennis players, by tennis players."
Our Tournament Supports:
Alzheimer's Association of CT