The Wint Filipek Sr.

Memorial Tennis Tournament
​
JUNE 18-26, 2022
EXCITING NEWS FOR OUR 2022 SEASON.
WE ARE OPENING 8 SINGLES DIVISIONS.
​
GREAT NEW FACILITY THAT YOU WILL ENJOY
WESLEYAN UNIVERSITY, MIDDLETOWN
​
SINGLES AND DOUBLES TOURNAMENT
​
USE THE ONLINE ENTRY FORM - EASIEST WAY TO REGISTER
​
FUN - COMMUNITY!
This is not your ordinary
tennis tournament!
The Wint Filipek Sr. Memorial Tennis Tournament
Ridge Top Club
556 Skiff St.
North Haven, CT 06473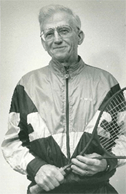 Communications Board
​
​
​
​
THIS IS NOT YOUR ORDINARY TENNIS TOURNAMENT!!!
​
​
​
9 Courts Available For Our Use
To be a tournament sponsor or serve on our committee contact:
Wint Filipek @: wrfilipek@hotmail.com
"The Tennis Tournament run for tennis players, by tennis players."
Our Tournament Supports:
Alzheimer's Association of CT