The Wint Filipek Sr.

Memorial Tennis Tournament
This is not your ordinary
tennis tournament!
Winton S. Filipek Scholarships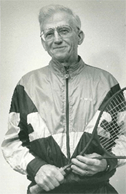 WINTON S. FILIPEK SCHOLARSHIPS
​Filipek Family Tennis Scholarship
In memory of Winton S. Filipek Sr.
​
The Filipek Family is pleased to support student athletes in Connecticut through a series of $300 - 1,000 scholarships intended to honor the life of Winton S. Filipek, Sr. The Filipek family has presented over $140,000 to deserving student-athletes in the past 13 years.
A well-rounded athlete in the Meriden area, it was tennis that held a special place in his heart. A Meriden city champion at the age of 16, and exhibition match with nationally ranked and Meriden's own Lois Felix, and a playing span of close to 60 years is a portion of his tennis legacy.

This scholarship fund is one way for our family to honor and remember him in this special way.
College bound seniors may apply and must have a minimum of a "B" average, record of participation on the school's tennis team at the varsity level and have a record of community involvement.
Contributions to the Wint Filipek Sr. Memorial
Scholarship Fund are tax-deductible.
For credit card donations:
The completed application must be submitted NO LATER THAN May 1st
The Filipek family congratulates our scholarship recipients:

​
2017 Scholarship Recipients
Bolton HS
Megan Callahan

Cheshire HS
Arnav Velaparthi, Sean Crowley, Jaden Tiriolo


Cromwell HS
Kira Bradley

Lyman Hall HS:
Megan Lane

Maloney HS:
Madison Papallo
Sheehan HS:
Matthew Ottochian
Amanda Addona

Wilcox Technical HS:
Alan Chen


I'm a paragraph. Click here to add your own text and edit me. It's easy.
The Filipek family congratulates our scholarship recipients:

​2016 Scholarship Recipients
St Paul HS
Olivia Kilbourne

Cheshire HS
Daniel Light, Owen Murray

Lyman Hall HS
Jacob Wolansky
Maloney HS
Griffin Arnold, Domonique Carnot, Katherine Longworth

Newington HS
Ron Abraham

North Haven HS
Giovanni Petruzziello
Sheehan HS
Amy Caplan

Southington HS
Angela Balaoing, Natalia Gimenez

West Haven HS
John Delgado
The Filipek family congratulates our scholarship recipients:

​2015 Scholarship Recipients
Cheshire High School:
Jackson Ajello
Sarah Bruce
Reilly Eldredge
David Light
Sidney Tomko
Katherine Wang

Cromwell High School:
Nick Gianni

Hamden Hall:
Loren Dunn
Lyman Hall High School:
Nicholas Fiorillo
Zachary Sola
Amberly Lao
​
North Haven High School:
Emily Migliorini
​
Platt High School:
Joseph Ludemann
Sheehan High School:
Ashley Addona
​
Southington High School:
Alex Barmore
Julie Falk
Kanal Kataria
Rianna Susco
​
Wilcox Tech:
Mia Dupuis
Amanda Wallace
The Filipek family congratulates our scholarship recipients:

​2014 Scholarship Recipients
Alyssa Sweigard - Maloney HS

Michael May - Lyman Hall HS
Sarah Pascale - Lyman Hall HS

Riley Mayne - Sheehan HS

Nick Anthony - Cheshire HS
Jeremy Reichentahl - Cheshire HS
Justin Truong - Southington HS

Daniel Rombola - Berlin HS

Christine Hill - Chase Collegiate HS

Melanie Frank - Coginchaug Regional HS

Kellen Gan - Glastonbury HS
Riya Abraham - Newington HS

Andrew Westwood - No. Branford HS

Patrick LeGates - No. Haven HS
Alexia Petruzziello - No. Haven HS

MacKenzie Blair - Thomaston HS
Megan Fitzgerald - Thomaston HS
The Filipek family congratulates our scholarship recipients:

​2013 Scholarship Recipients
Gary Beaumont, Southington HS
Laura Brooks, Lyman Hall HS
Caleigh Curran, Sacred Heart Academy
Ariana D'Avanzo, Platt HS
Vincenzo DiDomenico, Platt HS
Tim Earley, Sheehan HS
Sarah Gansley, Sheehan HS
Emanuel Keiler, Platt HS
James Keiler, Platt HS
Claudia Krah, Sacred Heart Academy
Rebecca Mauri, Platt HS
James Park, Maloney HS
Andrew Rittenhouse, Maloney HS
Danielle Sweigard, Maloney HS
Christina Szepanski, Windsor Locks HS
Kevin Thompson, Sheehan HS
Dina Weick, Amity Regional HS
The Filipek family congratulates our scholarship recipients:

​2012 Scholarship Recipients
Ruchi Sheth, Platt HS
Isabelle Jacobson, Sheehan HS
Jennifer Lange, Sheehan HS
Matthew Mezzei, Sheehan HS
Conor Makepeace, Lyman Hall HS
Brian Murphy, Lyman Hall HS
Alejandra Gimenez, Southington HS
Courtney Race, Southington HS
Andrea Rasimas, Southington HS
Theresa Fitzpatrick, Cheshire HS
Andrew Henderson, Cheshire HS
Kelly Josephson, Berlin HS
Matthew Dean, Newington HS
Ronald Goodman, Home schooled, Meriden, CT
2011 Scholarship Recipients
Samantha Rosado
Tina Dutra
Chelsea Brown
Evan Gladney
Nicholas Madonna
Sarah Shoemaker
Nathan Beaumont
James DiNello
Katherine Otis
Emily Sherwill
Alyssa Carofano
Beck Bond
Jennifer Flannery
Megan Wester
Dominic Brzozowski
Christie Greenberg
Sarah Baker
2010 Scholarship Recipients
​
Dylan Moore
Hilary Rolstone
Victor Moreno
Aaron Lane
Spencer Beck
Alexandra Gerry
Jesse Boyd
Amy Provost
Christopher Early
Elizabeth Kadow
Michael Kadow
Jasmin Gimenez
Ryan Klem
Nicole Marziarz
Mike Rabiej
2009 Scholarship Recipients
Felicia Astorino
Melissa Beaumont
Lisa Cheung
Emily Doll
Daniel Dreissen
Jacqueline Garry
Sarah Griffin
Stephanie Kalat
Jennifer Lehner
Adam Lyon
Alexander Mastriano
Linh Nhan
James Nitz
Dennis Scarpa
Molly Schannell
Alexander Thompson
Kim Vo
2007 Scholarship Recipients​
Tim Dise
David Dreissen
Deano Kaminski
William Lake
Jamie Losi
Jessica Smilovich
Jamie Lynn Sarfeh
Amanda Szeligowski
2008 Scholarship Recipients
Christina Brzozowski, Sacred heart Academy
Alex Coppola, Southington HS
Anns Durrani, Sheehan HS
Giselle Gimenez, Southington HS
Anna Lyke, Cheshire HS
Eric Murdy, Maloney HS
Rachel Murphy, Sheehan HS
Amanda Parisi, Sheehan HS
Monica Pascale, Lyman Hall HS
Brittny Staschke, Lyman Hall HS
2006 Scholarship Recipients
Lila Cheung
Ibtisam Durrani
Alexandra Garry
Justin Goot
Kristen Wielgosz